Posts Tagged 'Urraco'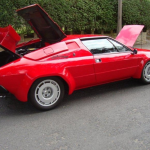 Similar to the Espada, the Lamborghini Jalpa is one of the least expensive ways into owning a car with a the Raging Bull on the hood. A derivation of the earlier Urraco, the Jalpa had a production run for eight years with 410 cars...
While the Urraco wasn't the first mid-engined Lamborghini, it was certainly more accessible to ordinary enthusiasts than what many consider the original supercar, the Miura. True to Lamborghini form, few Uraccos were ever built, even...