The Flaminia is a bit of a dark horse when it comes to Italian classic cars, but it's important in its own right. The flagship of the range for ten years, this was a car that, like all Lancias of the period, was magnificently engineered yet had an understated style about. The Flaminia broke ranks with the racy sports cars and flashy grand touring machines to hail from Italy at the time and opted for a more muted elegance. With its V6 engine, double wishbone front suspension and rear mounted transaxle, this was an advanced vehicle in its day. This particular Flaminia for sale in Texas is a bit rough but it's all there for someone with enough time and money to invest in this classic machine.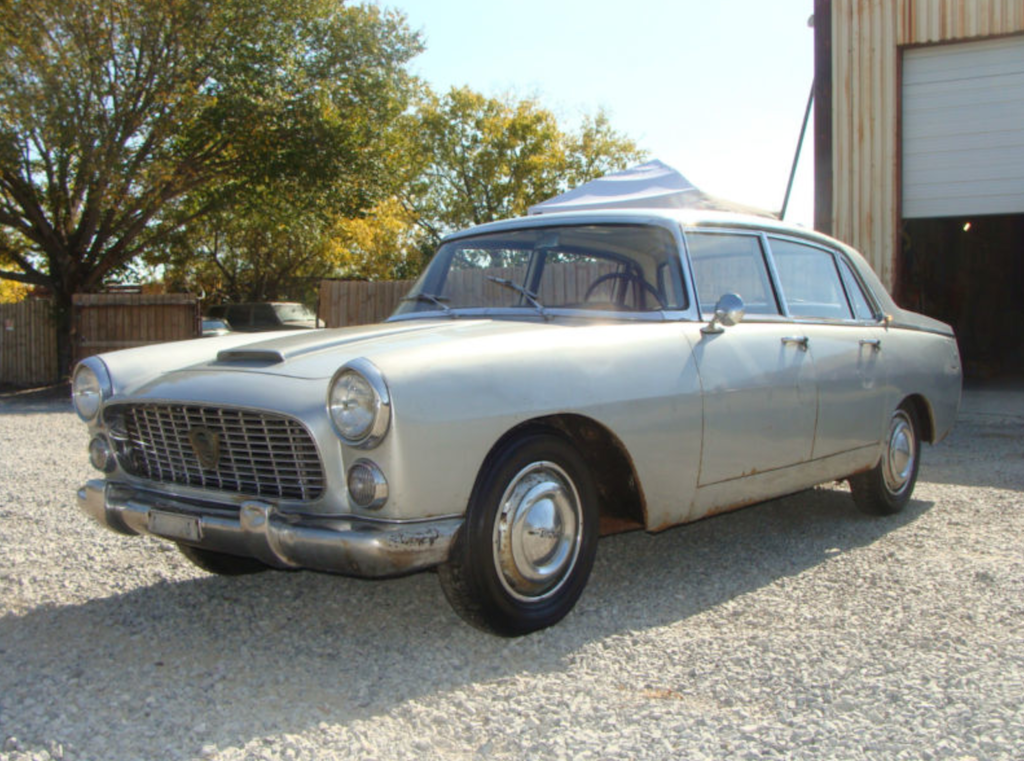 Back in 1959 Italians regarded the Lancia Flaminia as the finest car in Italy. Maseratis and Ferraris were of course in a whole separate category, but in placing the Flaminia above all else the Italians of the time, who did not take their automobiles lightly, accorded it a huge collective endorsement. The Lancia Flaminia abounds in intriguing technical details like the aluminum 2,458cc 60 degree V-6 engine that produces 110 brake horsepower even with the stock Solex 2-barrel carburetor, a full synchromesh 4-speed manual transmission, independent front suspension with wishbones (finally supplanting Lancia's fabled sliding pillar suspension), deDion rear axle with inboard drum brakes and rear-mounted clutch and transmission for ideal weight distribution and low unsprung weight that combines a smooth ride with excellent handling.

The cabin of the Pininfarina designed Flaminia four door sedan comfortably seats six on two bench seats. This 1959 Lancia Flaminia Sedan is a remarkable survivor, having been put away years ago and carefully stored since so it survives in exceptional condition. The paint has suffered, and needs to be redone, but the body is sound with only a few parking lot dings and minor rust in the rocker panels and right rear quarter. The glass and leather interior are original and usable as is. Along with the strong standard specifications this Flaminia has a feature that sets it apart from just about any other car on the road: a pair of wipers on both sides, inside and out, of the rear window ensuring reasonable visibility in the most tropical conditions.

Give it new paint and a thorough mechanical review and it will be ready to drive and show with pleasure and the pride of having one of the best cars Italy produced in the late Fifties, a sedan with ample interior room, decent performance and superb road holding and ride comfort as well as attracting deserved attention for its rarity.comes with an original owners and shop manual.Body by Pininfarina. This car has had but one old repaint. I put a new battery in the car and it spun over. I have not got it to fire, needs minor tuneup, points, etc. About 3,334 of these were produced. Few came to the USA. They cost $6,000 new. That's more than a 1959 Cadillac. This is a two owner car.
Unlike their two door siblings, the Flaminia Berlina, like most sedans, is a bit more of a bargain. In good shape, these classics can bring around $30,000 to $40,000. In this kind of condition, I'd wager to say this car will bring about half of that value. These aren't cheap cars to restore, as they are rare and if parts are missing, it could prove a hassle to source. Not to mention this car, unlike many Italian classics, has a decent amount of sheet metal to work on. All in all, for someone willing to tackle a project like this, they'd have a stately and uncommon classic that is sure to turn heads of the more hardcore enthusiasts on the street and at shows.
-Paul